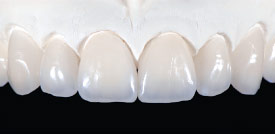 Porcelain veneers enable any patient to achieve a beautiful smile. Consisting of a thin layer of porcelain, veneers are bonded to the front of your teeth in order to mask stains, chips and other imperfections. Veneers also provide an excellent alternative to traditional orthodontics, instantly filling gaps between teeth and giving misshapen teeth a clean, white, aesthetically pleasing appearance.
What are veneers?
Veneers and Laminates are ultra-thin facings of porcelain or resin which once bonded to the fronts of teeth can subtly or dramatically change the appearance, color, size and shape of a tooth.  Veneers are used to repair imperfections in your smile which include:
Teeth that are worn down
Teeth that are chipped or broken
Teeth that are misaligned, uneven, or irregularly shaped (for example, have craters or bulges in them)
Teeth with gaps between them (to close the space between these teeth).
Porcelain veneers are highly resistant to dental stains and can restore a smile back to a healthier, brighter, more "ideal" look.
We offer this treatment option to patients because it is often the most conservative way to cover several imperfections without resorting to crowns, dental implants, and other more invasive procedures.
What does getting porcelain veneers involve?
Getting veneers usually requires two visits to complete the process, with little or no anesthesia required during the procedure. The teeth are prepared by lightly buffing and shaping the surface to allow for the thickness of the veneer. A mold or impression of the teeth is taken and a shade (color) will then be chosen by you and the dentist.
On the second visit the teeth will be cleansed with special liquids to achieve a durable bond. Bonding cement is then placed between the tooth and veneer and a special light beam is used to harden and set the bond.
You will receive care instructions for veneers. Proper brushing, flossing and regular dental visits will aid in the life of your new veneers.